Today, we are so excited to introduce you to a vendor we love and frequent so much.  Kate Ryan Linens specializes in providing a huge selection of luxury linen as well as specialty chairs, covers, chargers and more. In the fall of 2010, Dan and Kristen, husband and wife, decided to team up to create Kate Ryan Linens. Dan came into the business with a vast knowledge of the linen rental process after owning a commercial linen laundry operation. Kristen is a lover of all beautiful and unique fabrics, with a degree in Interior Design. With both of their experience combined, it is no surprise that Kate Ryan Linens is as successful as it is today.  
Kate Ryan Linens is a true family business, named after Dan and Kristen's daughter, Katelynn Ryanne.  As you often find with family businesses, Kate Ryan Linens is intentional about giving each client their perfect event.  Very hard work, patience, and determination are what Kristen says got their business where it is today, and that is sure to shine through when you work with them.  When working with a bride, Kate Ryan Linens makes sure to go over all of the rentals you could possibly need and help each client notate to be sure that nothing gets left out.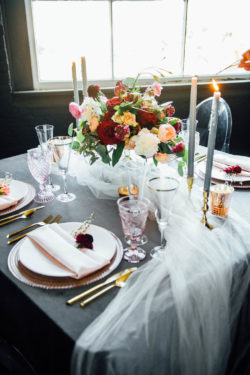 We asked Kristen what advice she would give a bride and groom if given the chance, and she said she would advise them to prioritize what is important to them and do not stress. When you book Kate Ryan Linens, you are guaranteed to get personalized consultations centered around your unique style and budget. They take care of the details so you'll be as stress free as possible on your big day.