Hey guys, Abby here! For those of you who don't know me, I'm the social media girl here at Ashton Events. Back in January, I got to switch roles and become the bride! It was such a fun and unique experience being on the other side of our process. Today I want to give you a look into the inspiration behind all of our wedding details and a few tips along the way to help and future brides out there. Ready? Let's get the party started!

Our number one priority when dreaming up our wedding was to make every inch of it "us" and as personal as possible, while also doing everything on a budget. We wanted it to feel like us, look like us, taste like us, and be a total reflection of Zach and me as a couple. We really didn't want it to feel super traditional, more so just wanted to hang out with all of our friends and family and celebrate this new adventure together with all the people that helped get us there.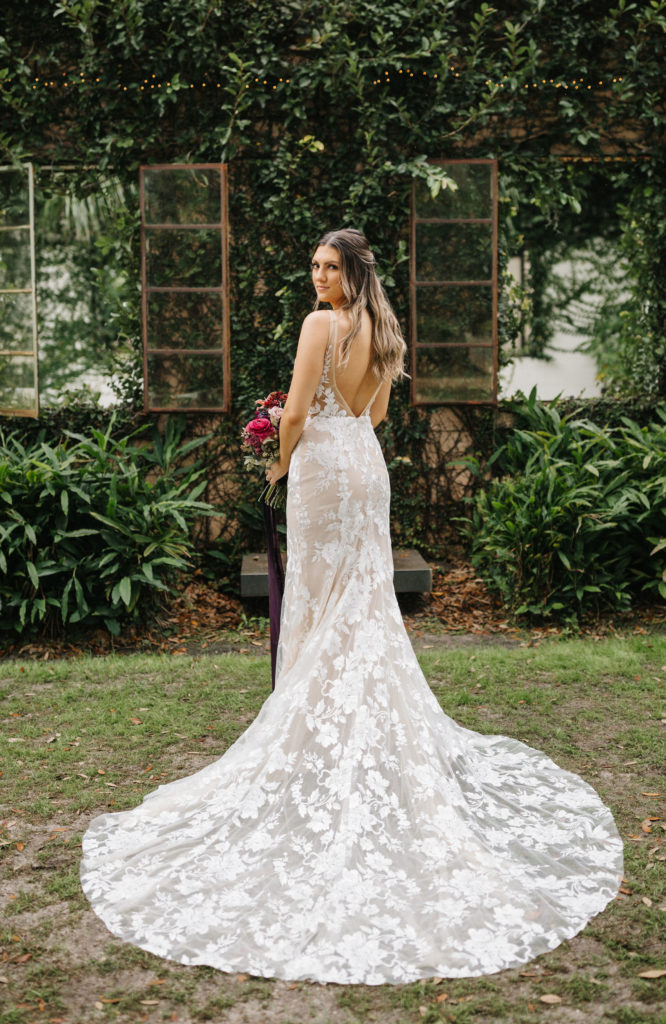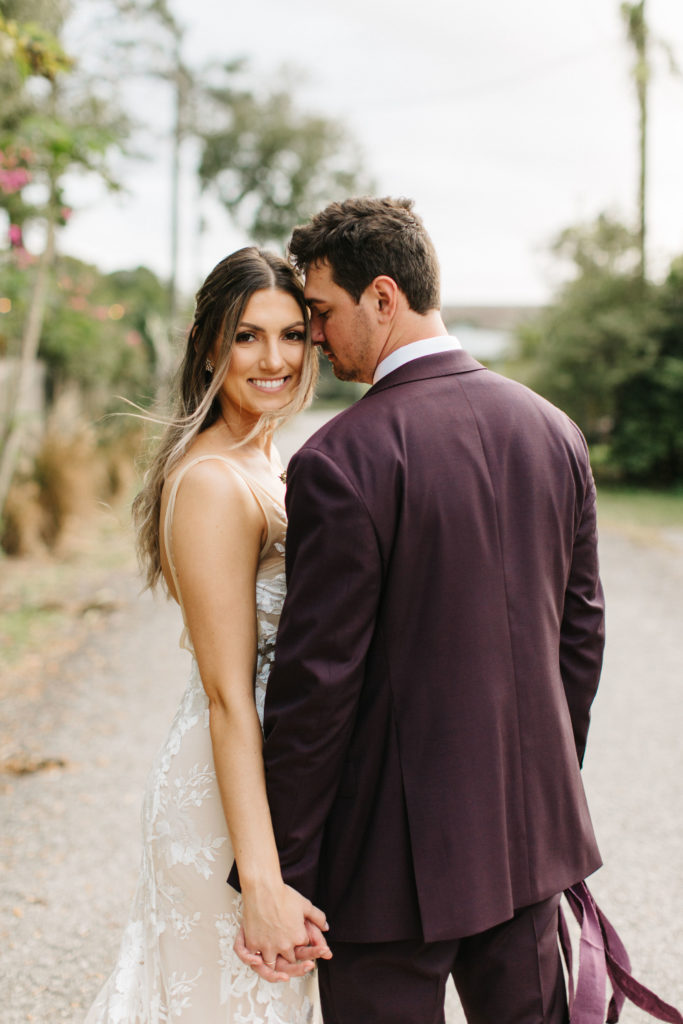 Picking The Acre as our venue was a no brainer for us. We both knew we wanted an outdoor space, and the atmosphere and vibe is just unlike anywhere else. We truly felt like we were in our own little magical Zach + Abby world! Want to hear a funny story? The number one reason why we picked January was because in Florida, its the driest and coolest month of the year and our entire wedding + reception was outside. I was dead set on not having a tent, we had designed everything without one, but leave it to Florida to throw some bizarre weather our way. You can't tell from the pictures, but it was supposed to STORM all day. But we didn't let that shift the focus of our wedding day, and it actually ended up being the most amazing weather of all time. Piece of advice: ALWAYS have a back up plan. We didn't plan on having a tent, but we ended up scrambling to get one just days before the wedding because of the weather risk. And it actually turned out so beautifully!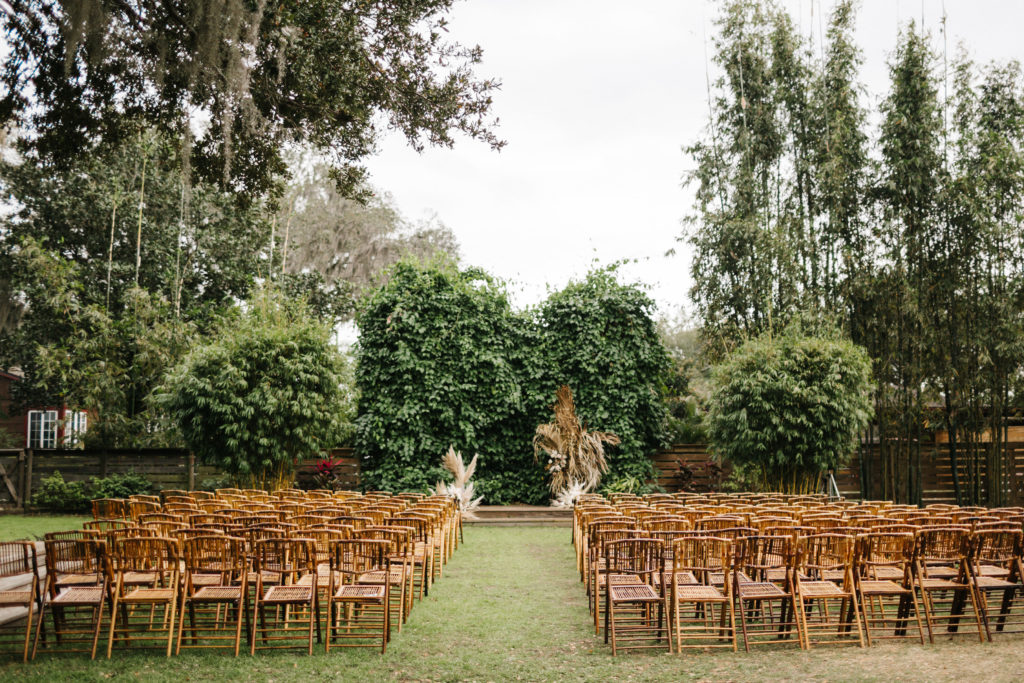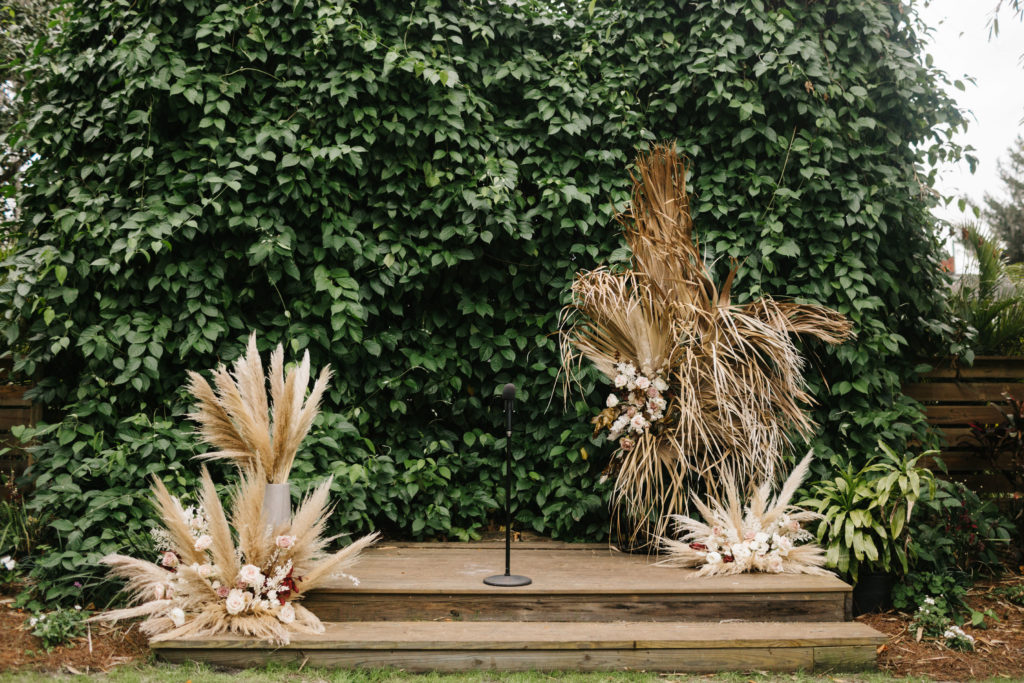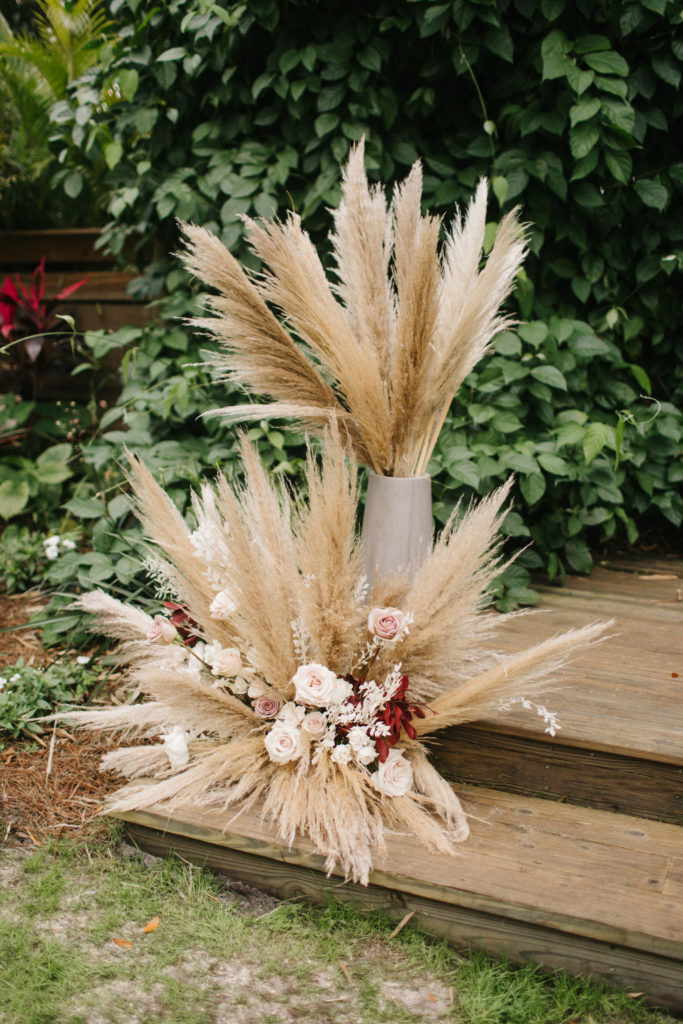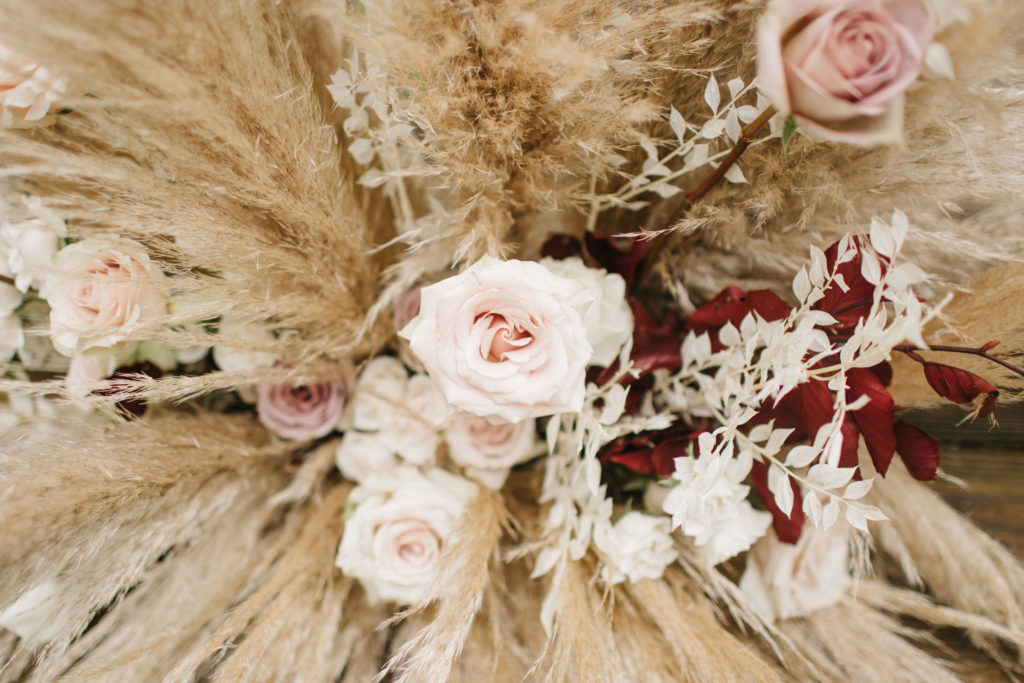 My favorite design element was definitely the flowers. I didn't want matchy matchy or traditional wedding flowers at all. I wanted them to be funky and unique, just like us! For the ceremony I wanted more neutral, dried flowers for the altar so that all the plum details and our bouquets would really pop. I actually didn't even know what the ceremony was going to look like. I told Laura the general idea of what I was thinking and just let the team have complete creative freedom to come up with whatever they wanted. So when I saw the ceremony set up on the day of, it blew me away! They knocked it out of the park with all of the florals.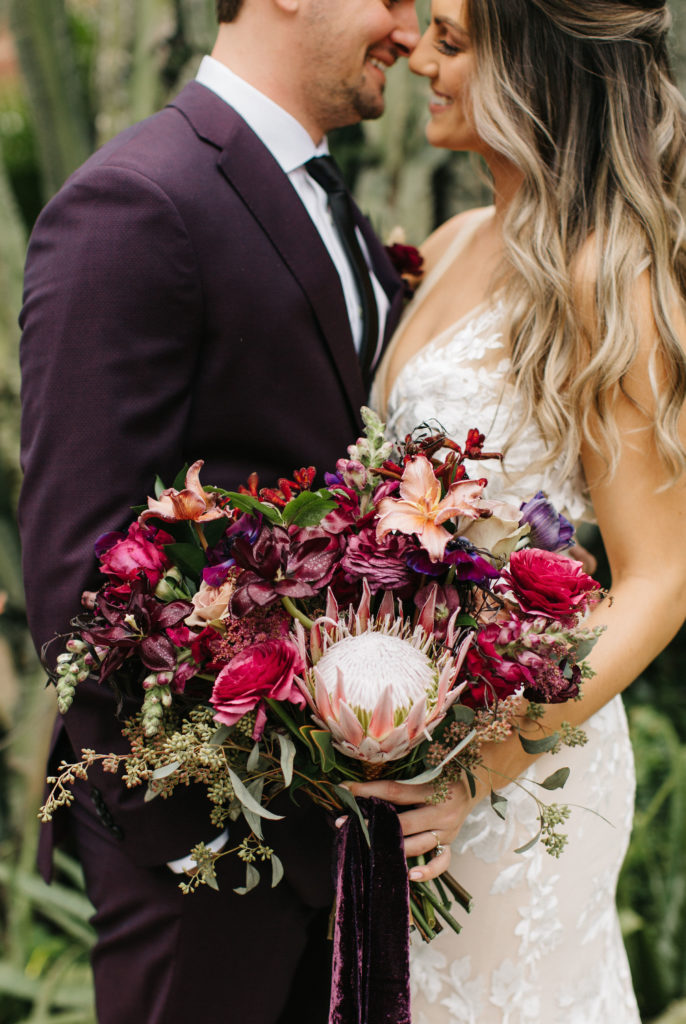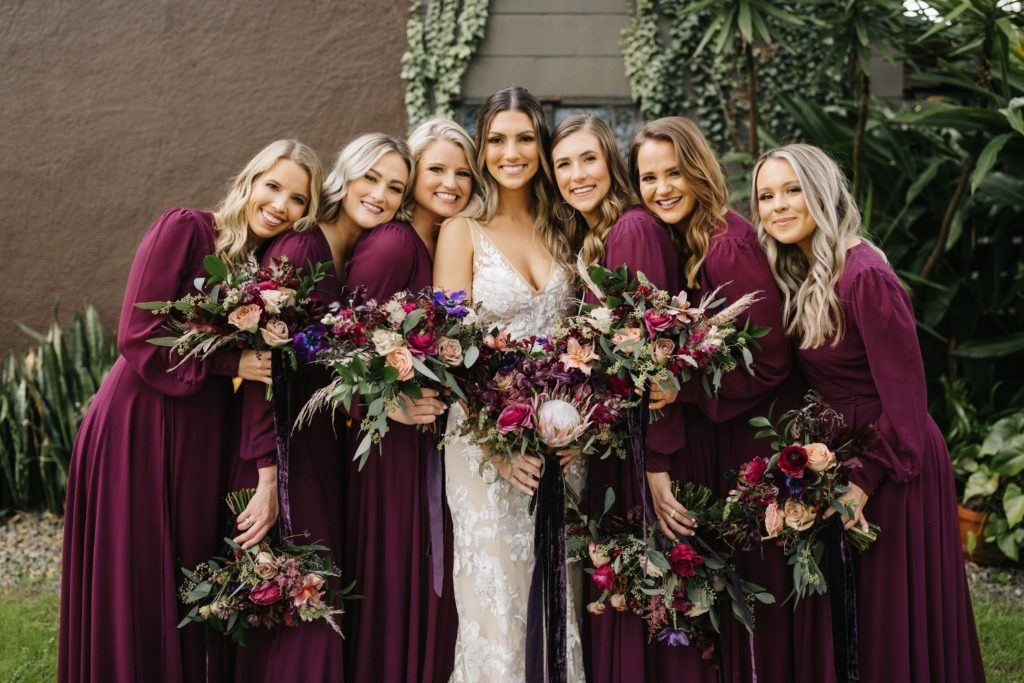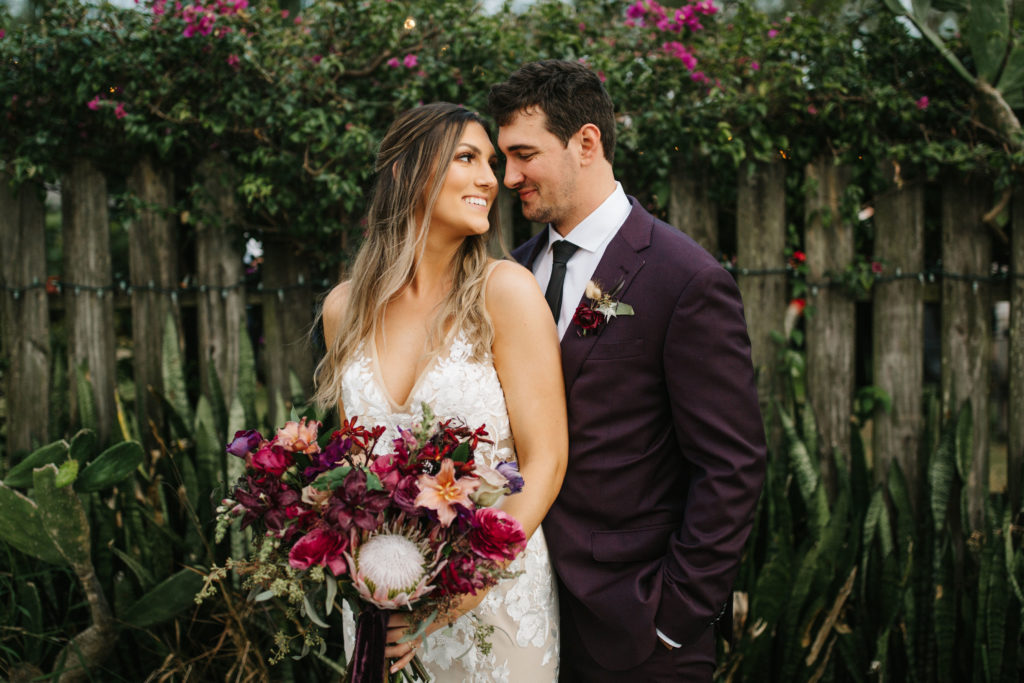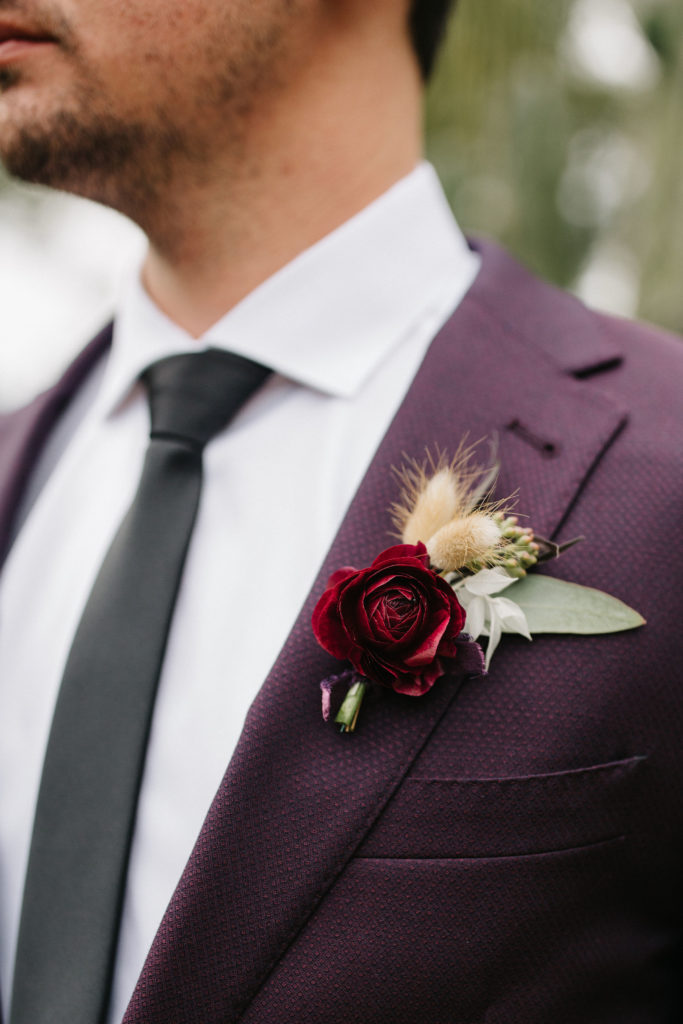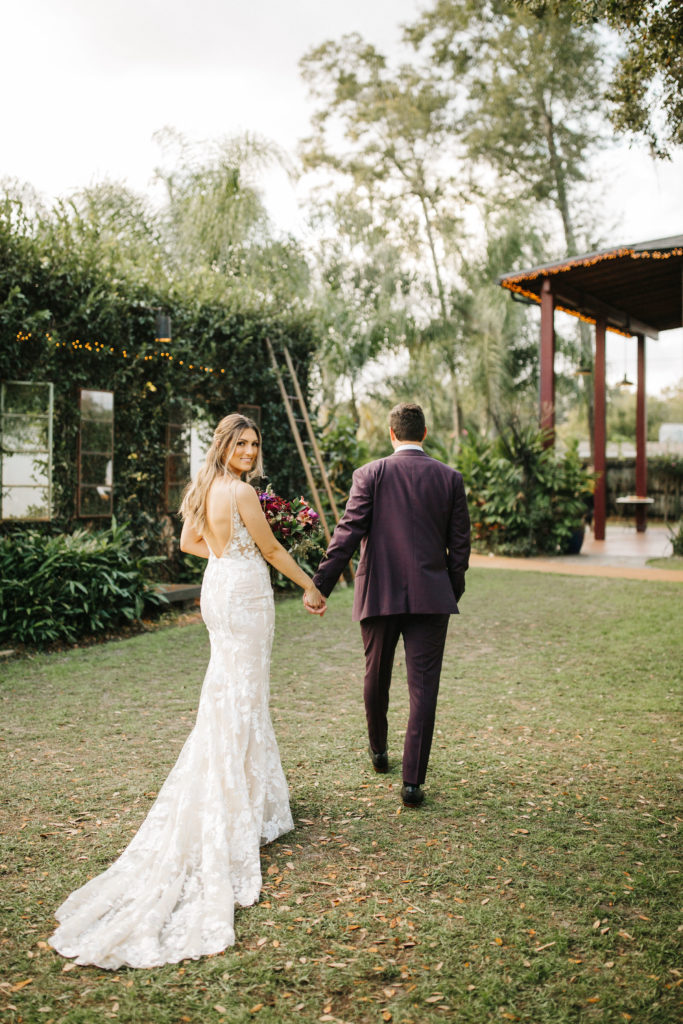 Zach's favorite color is purple, so that was the basis for our entire plum/purple color scheme. I wanted him to feel like this was as much his day as it was mine, so choosing his favorite color as the center of our whole design was perfect and added an extra layer of personal touch. Little things like even just holding my bouquet made me feel even more connected to him because I knew it was something he loved and helped me choose. He wore a dark plum suit and all of his groomsmen were in black. We wanted him to stand out and be set apart from his guys in a subtle way.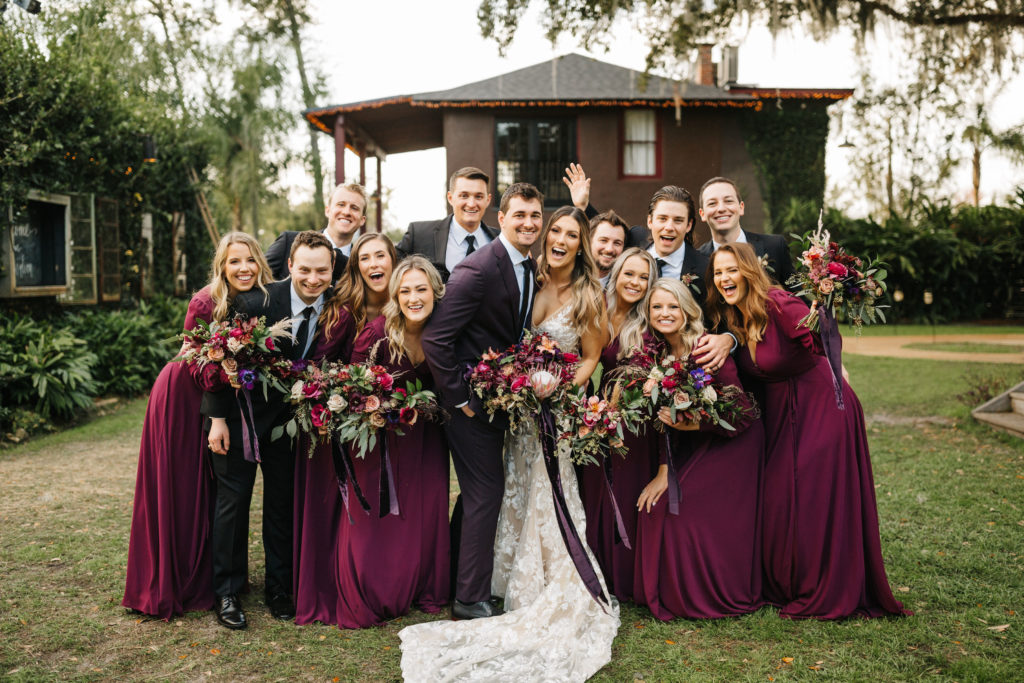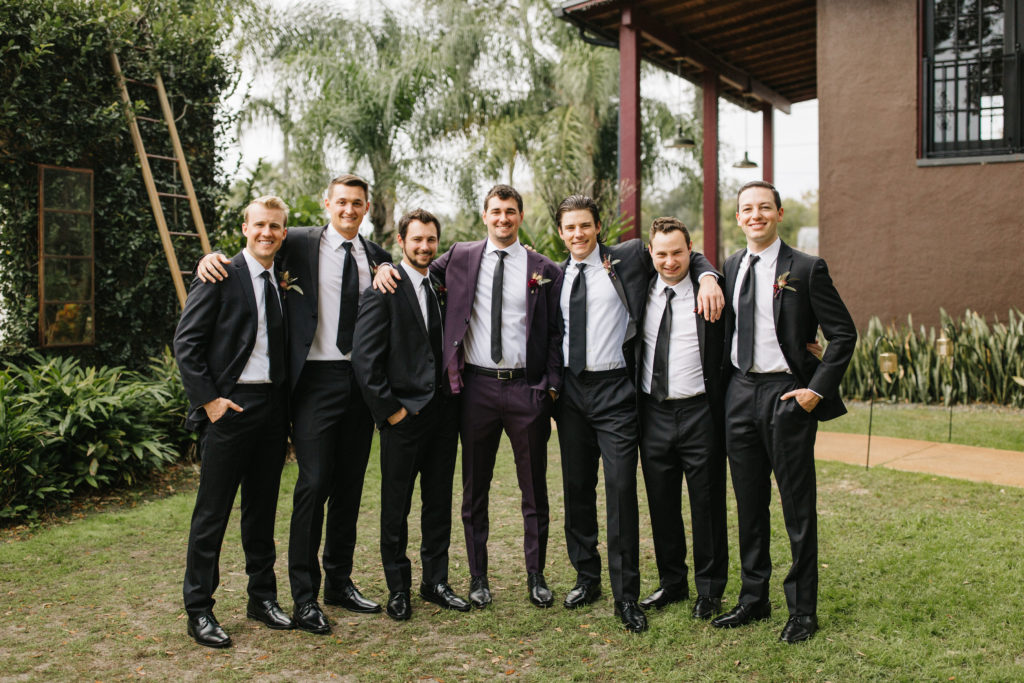 The escort display was also an idea I dreamed up and my amazing team of wedding gurus created something more amazing than I could have ever even imagined. I love pressed flowers and wanted to figure out a way to incorporate that into our day. So we used pressed flowers in acrylic for the welcome sign and seating chart.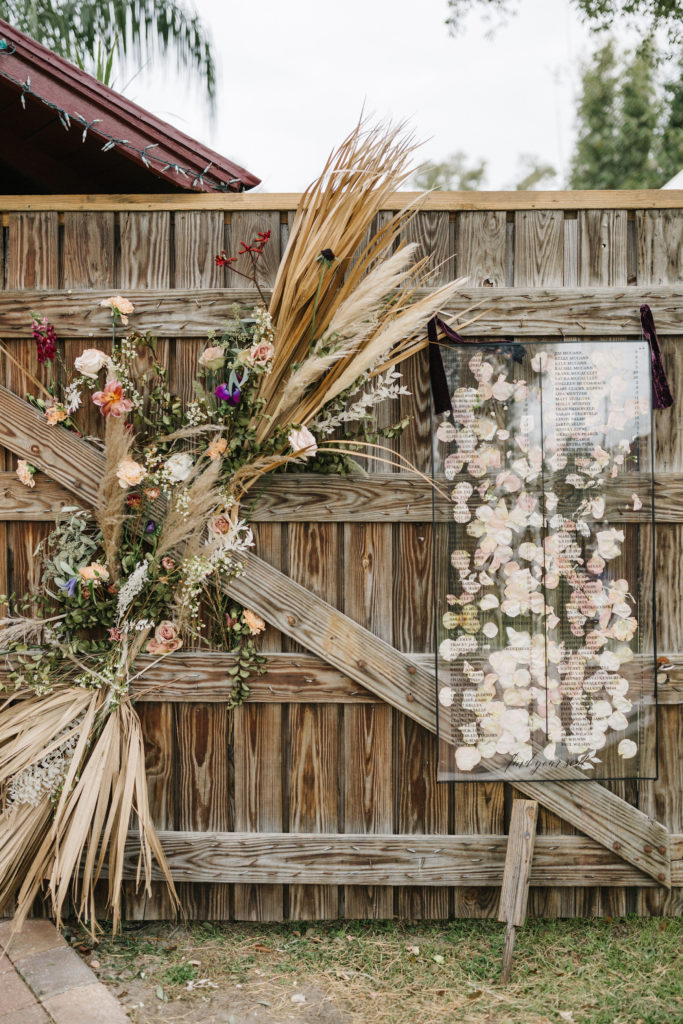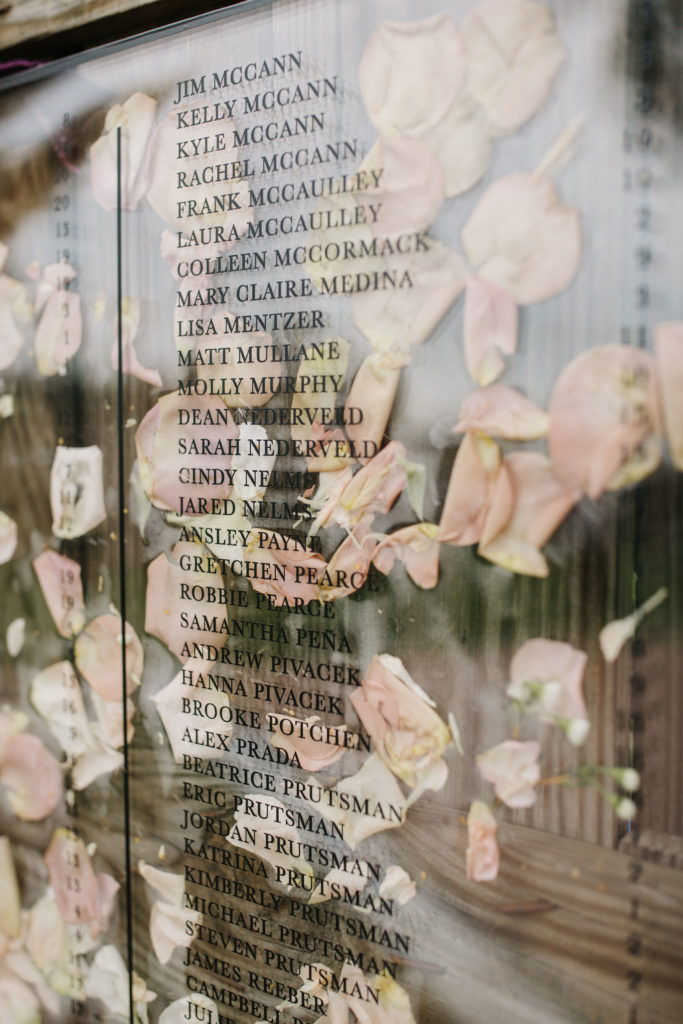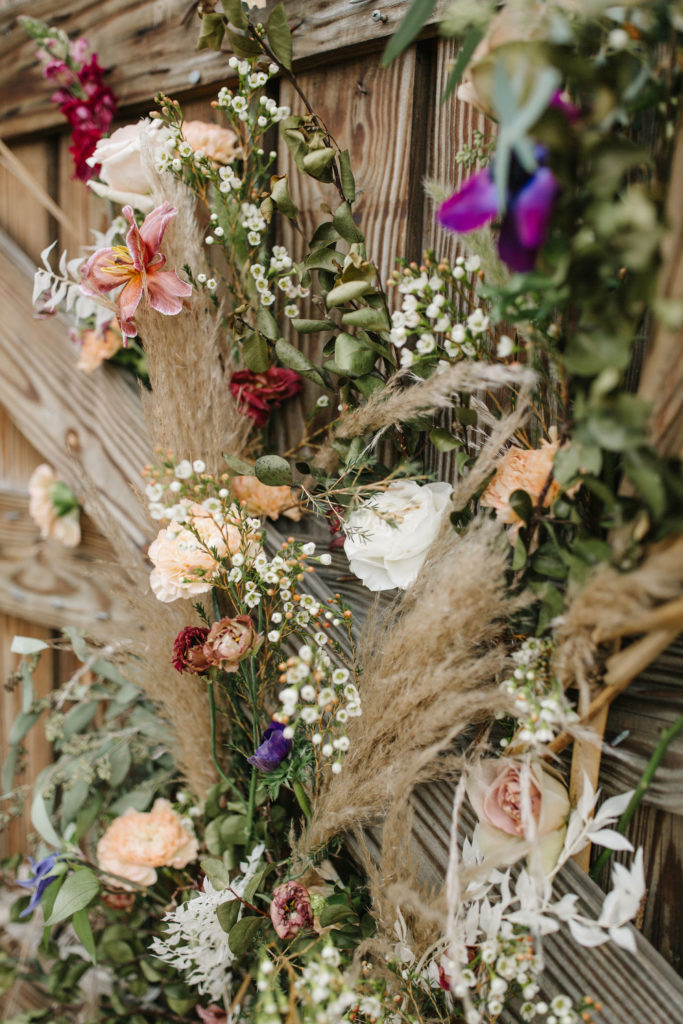 For the reception tables, we went with a neutral champagne colored linen to let the bold florals really pop. We had several different centerpiece styles for the tables to give lots of variety and a unique experience for each guest. We chose chic, black flatware and Acacia Wood chargers with plum goblets from Treasury Rentals and topped it off with a purple knotted napkin from Nuage. Our sweetheart table was a dreamy, bohemian oasis for Zach and I to have a little moment to ourselves during the reception. Our friends at Flock Decor brought our dreams to life with the most epic set up for us! The cocoon chairs with fun pillows and blankets in them were our favorite detail. We wanted our place settings to be different than everyone else's, so we had black flatware and black chargers with the plum goblets, a light orchid napkin, and ruscus tucked in the napkin as the little cherry on top. It was stunning!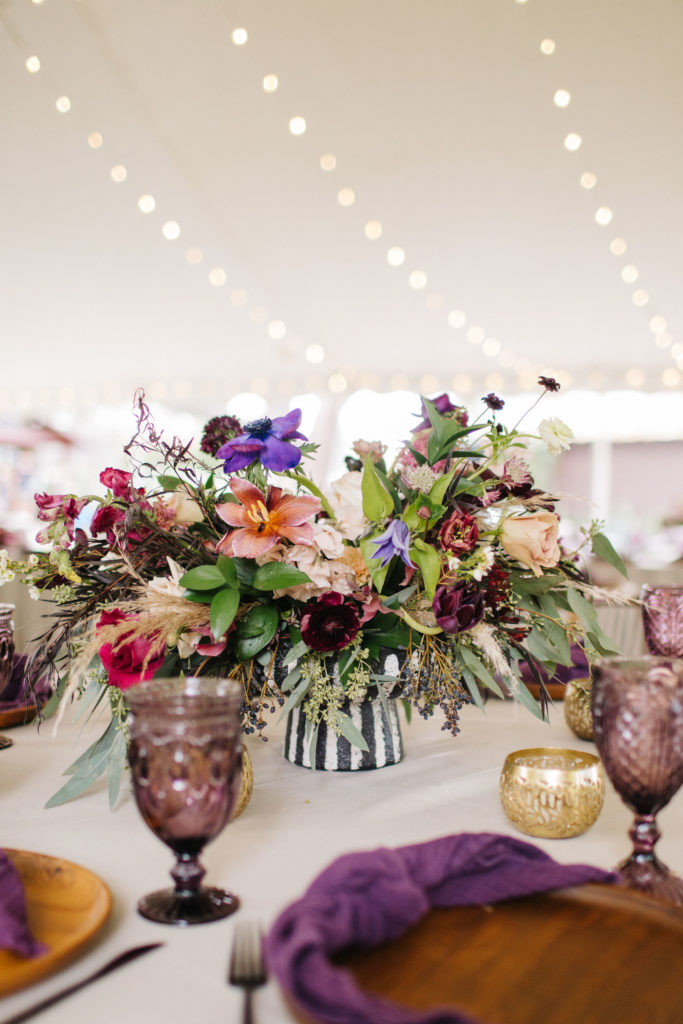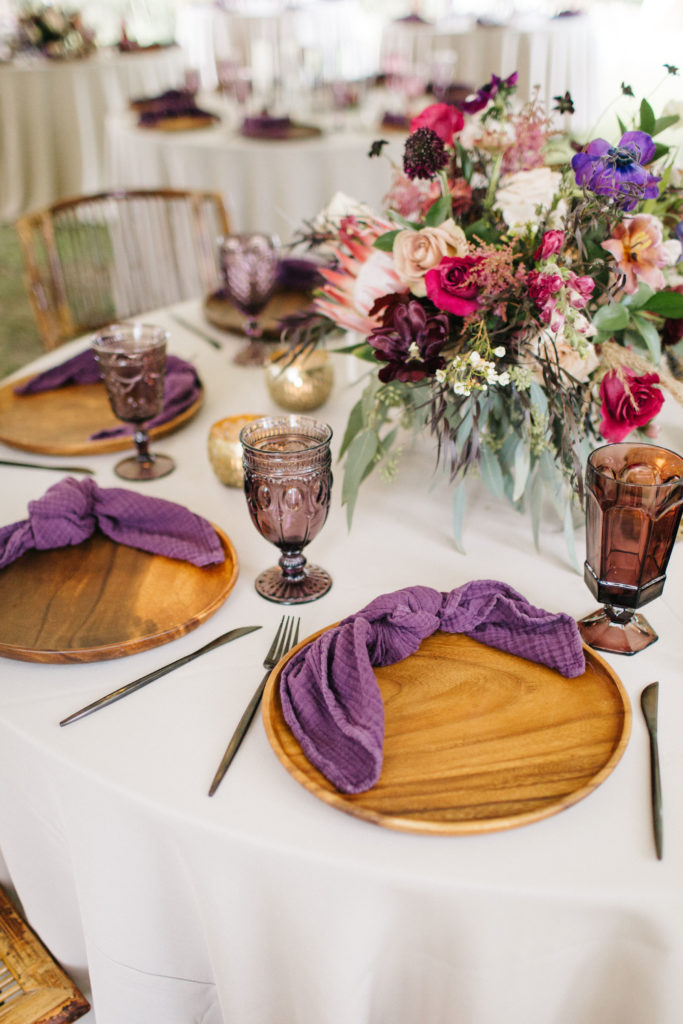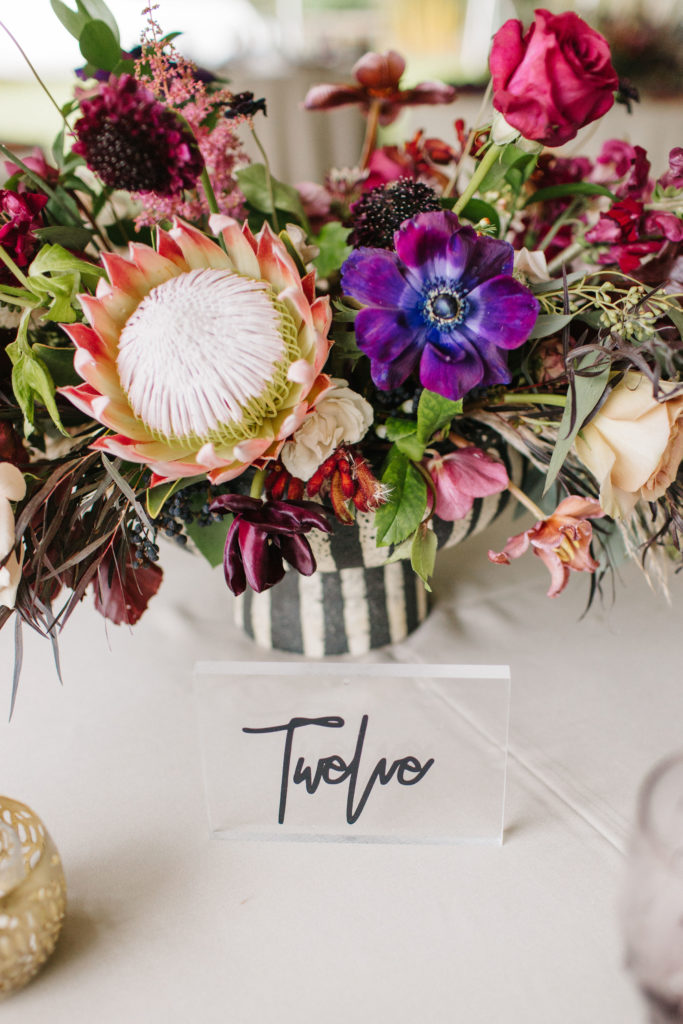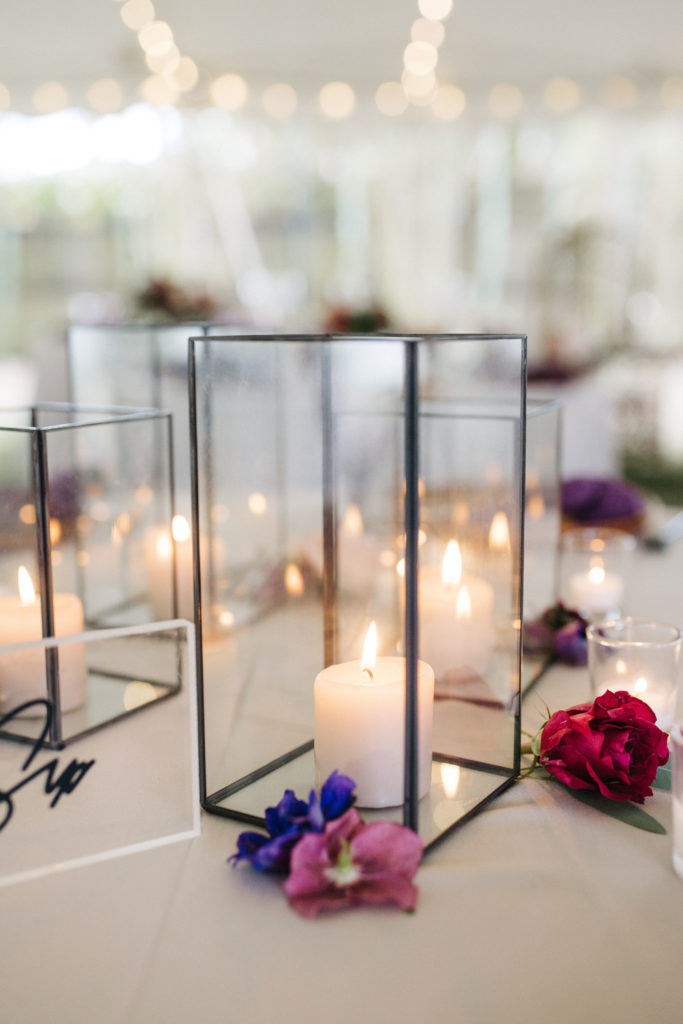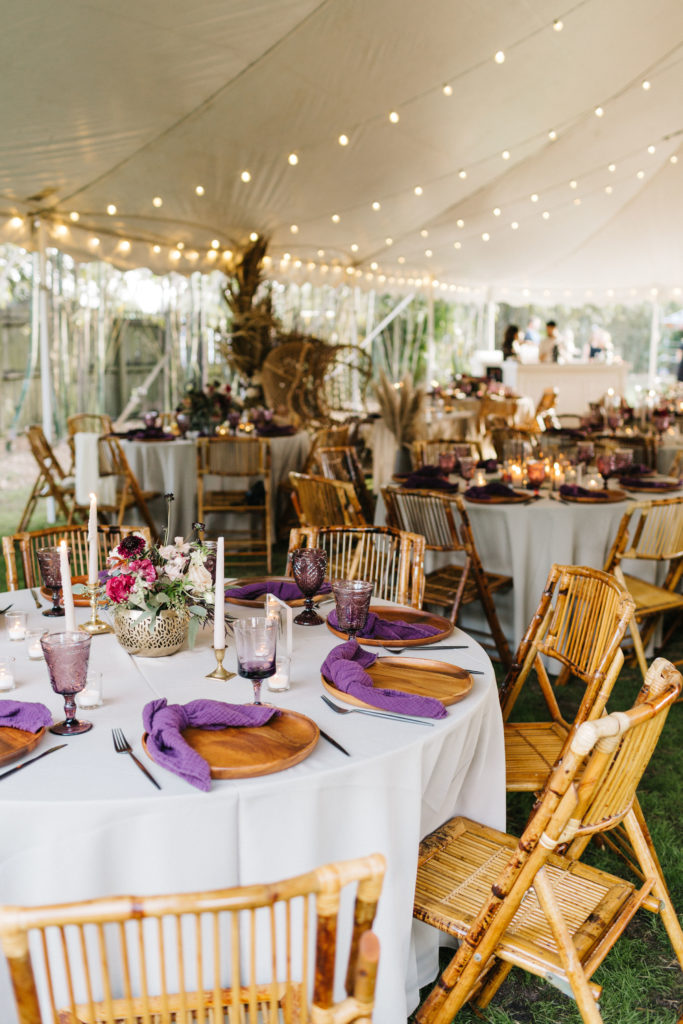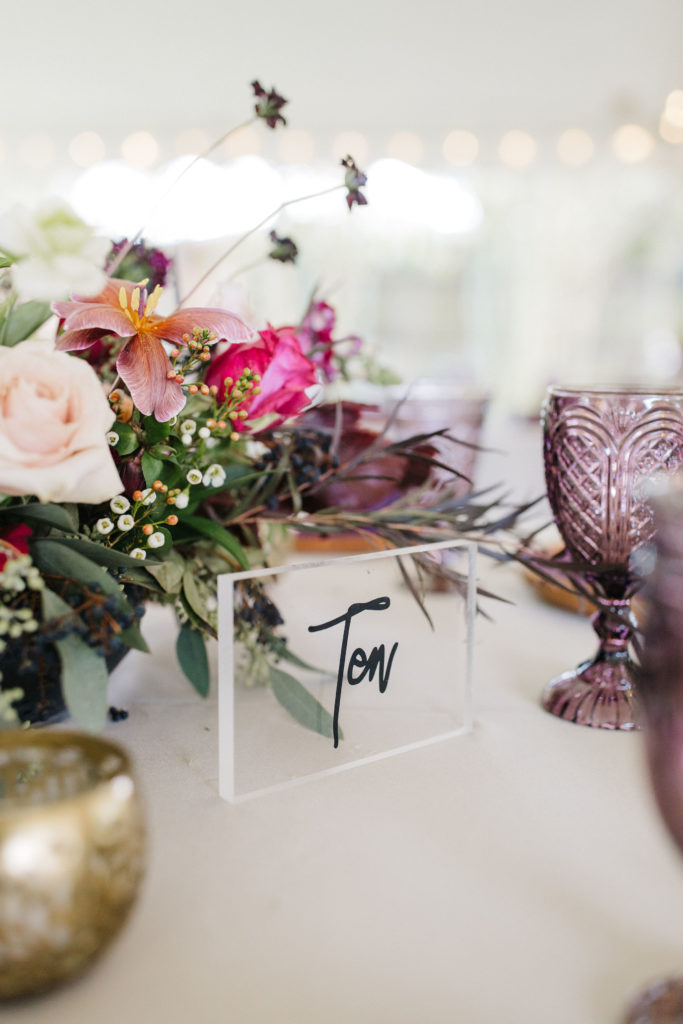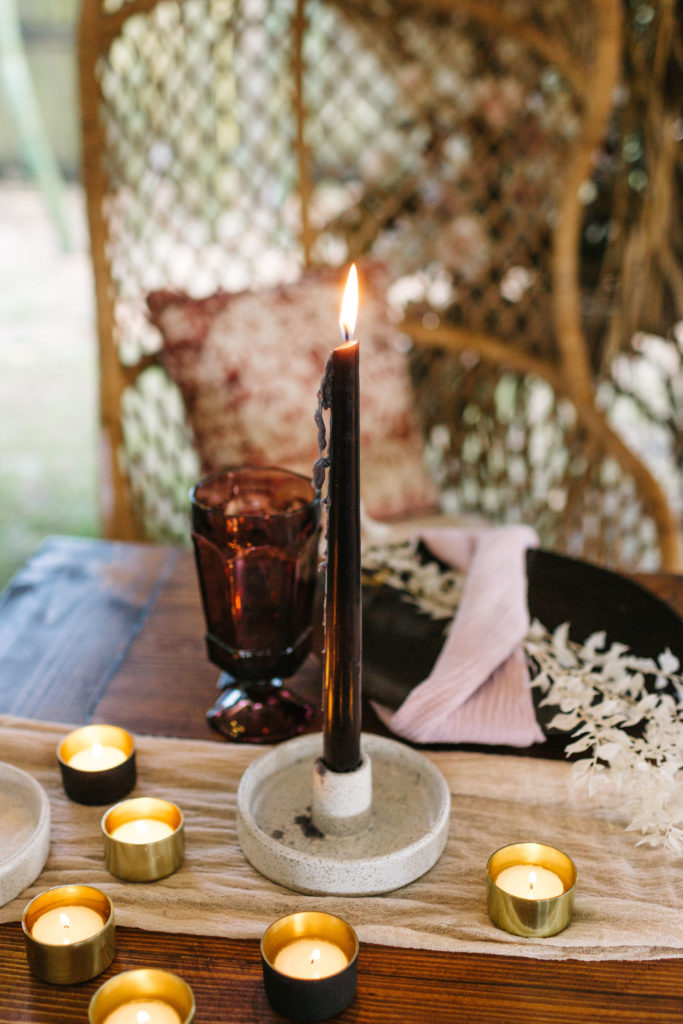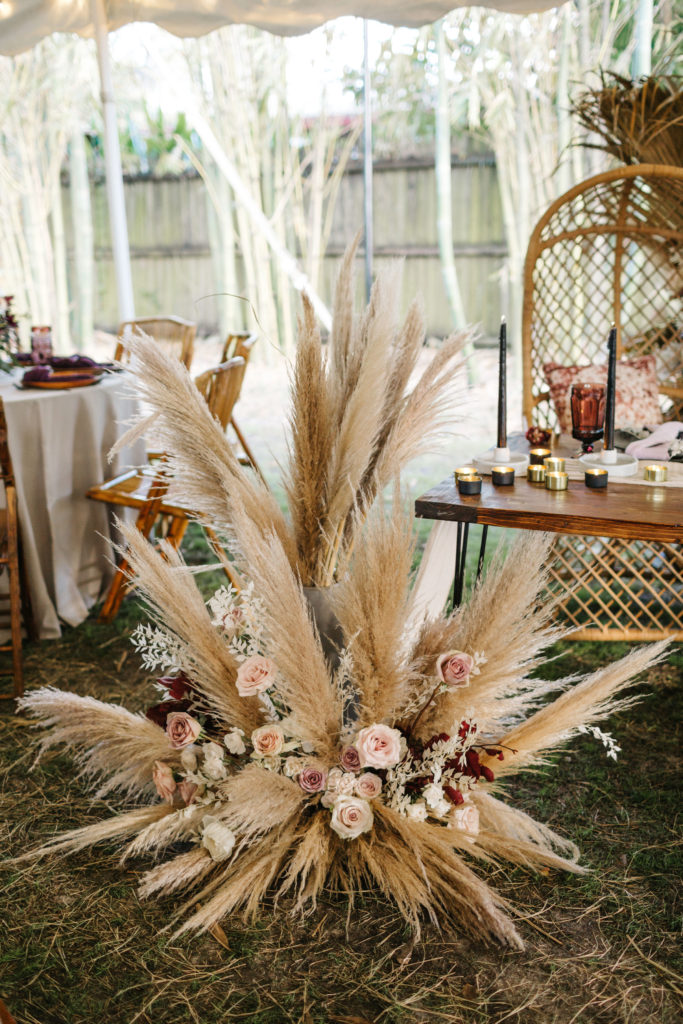 For dessert, we knew from the start that we didn't want cake. Both of us are huge donut fans and BIG time candy lovers. So our dessert table consisted of just that. A bunch of donuts/donut holes and all of our favorite candies! Instead of the traditional cake cutting/feeding pictures we shared a fruit roll-up and it was hilarious. Something we'll be able to look back on forever and laugh about! We had our dessert table set up in a little chapel house with a fabulous lounge area by Flock Decor so our guests could kick back and enjoy some donuts in peace if they wanted a break from the dance floor!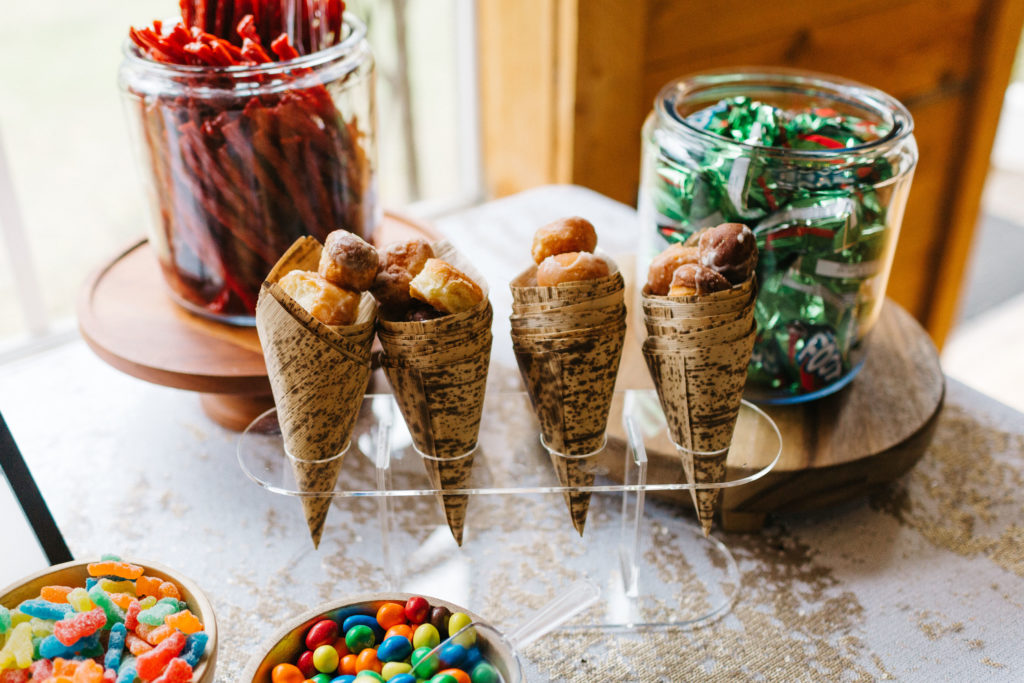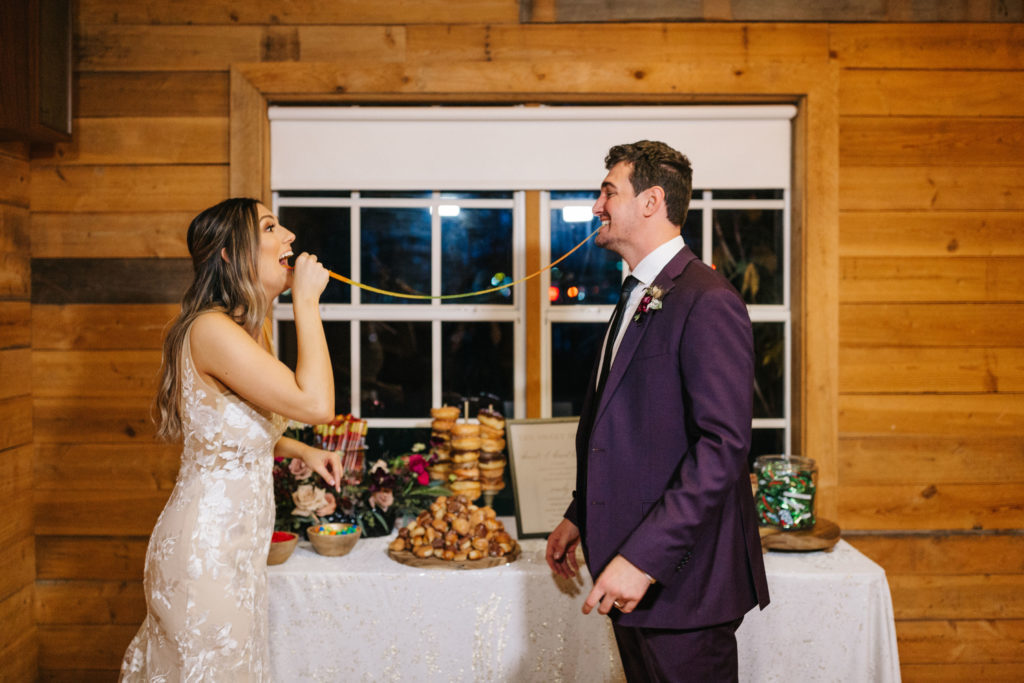 VENDORS
Planning, Design, & Florals: Ashton Events // Photography: Renee Nicole Photography // Venue: The Acre Orlando // Tabletop Rentals & Flatlay Styling: Treasury Rentals // Rentals: A Chair Affair // Linens: Nuage Designs // Lounge Area + Sweetheart Table: Flock Decor // DJ: Graingertainment // Makeup: Aysia Sylvia // Hair: Lexie Rose Hair // Dress: Made With Love // Wedding Dress Boutique: Malindy Elene Bridal // Bridesmaids Dresses: Lulu's // Groom/Groomssmen Suits: Men's Warehouse // Donuts: The Donut King // Catering: Catered By Bruno