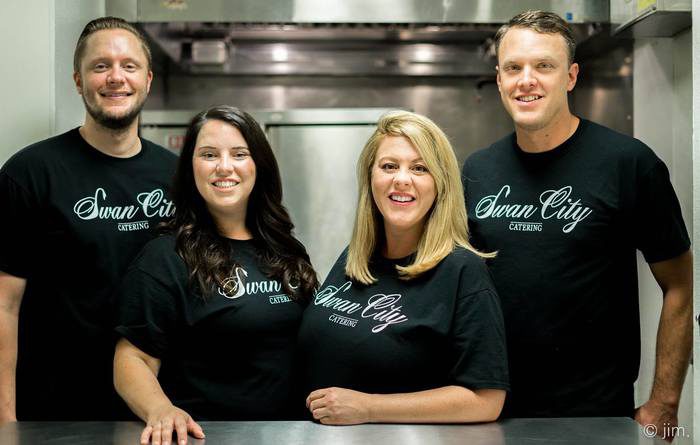 With over 35 years experience combined, Ross Lorenz and Mike Jones know the ins and outs of the food industry. Swan City Catering opened up its doors in February 2017, shortly after Mike and his wife, Erin were married and Ross and his wife, Afton found out they were expecting their first child. "We decided to knock out all the big life changes at once!" Afton laughingly joked.
Now, six months in, the quartet couldn't be prouder of the success of their business and the plates they've made empty. Ross began his career in middle school under an Austrian chef. Although he was labeled the dishwasher, he was able to work with many different food groups and kitchen tools. He also helped manage his Dad's kitchen store and ended up with six years of experience before beginning college.
After getting his degree in Culinary and Hospitality Management, Ross decided to open up his own restaurant in his home state of North Carolina. After several different career changes and even more learning experiences, Ross finally found himself in Lakeland. He had been working for Sawgrass Resorts in Pontre Vedra Beach and they needed a culinary expert to assist with the opening of Streamsong in the Bartow area. This is where Ross met Mike, who has cooked for both Harry's and Britt's Cafe. They immediately hit it off and began to concoct the plans of owning a business together one day. Mike graduated from Keiser with a University Dietetics and Nutrition degree, as well as a Food and Beverage Management degree. Luckily, their wives were on board and Swan City Catering soon became a reality.
"It's hard to explain the quality unless you have the opportunity to taste it," Afton said as she nodded toward what was left of my delicious, homemade gyro prepared by Ross just minutes before. During the interview, Ross and Afton stressed the importance of the flavor of their food. Presentation matters, but it's the taste and the process behind each of their recipes that sets them apart from other catering businesses.
All of their food is made from scratch, their herbs are homegrown, and generous amounts of salt and pepper are used. All of which makes ALL the difference. "Each step should reflect a new flavor of cooking," Ross said. Swan City Catering's goal is to complete their clients' events with food so good that it will be remembered just as much as the event itself.